Tom Lewis had mixed feelings about whether to alert the public to large flocks of trumpeter swans wintering on the Kootenay River near his house on Torano Road in Taghum.
On the one hand, he wants residents to know about the swans because they are beautiful, fascinating to watch, and they are unusually numerous this year — several dozen compared to the usual five to 10.
But he also wants to protect them from the crowds. Too many people are viewing them carelessly — coming too close to them, making noise, letting their dogs off leash. So should he just keep quiet and not attract more crowds?
His conclusion: educate people and let them decide.
"As landowners it is our responsibility to help protect them and do our part," Lewis said. "By bringing it to public knowledge, they have the information to be able to make their own decision about whether to come down here."
Lewis said he wants to encourage people, if they decide to visit the swans, to be respectful, stay distant, and don't run dogs loose.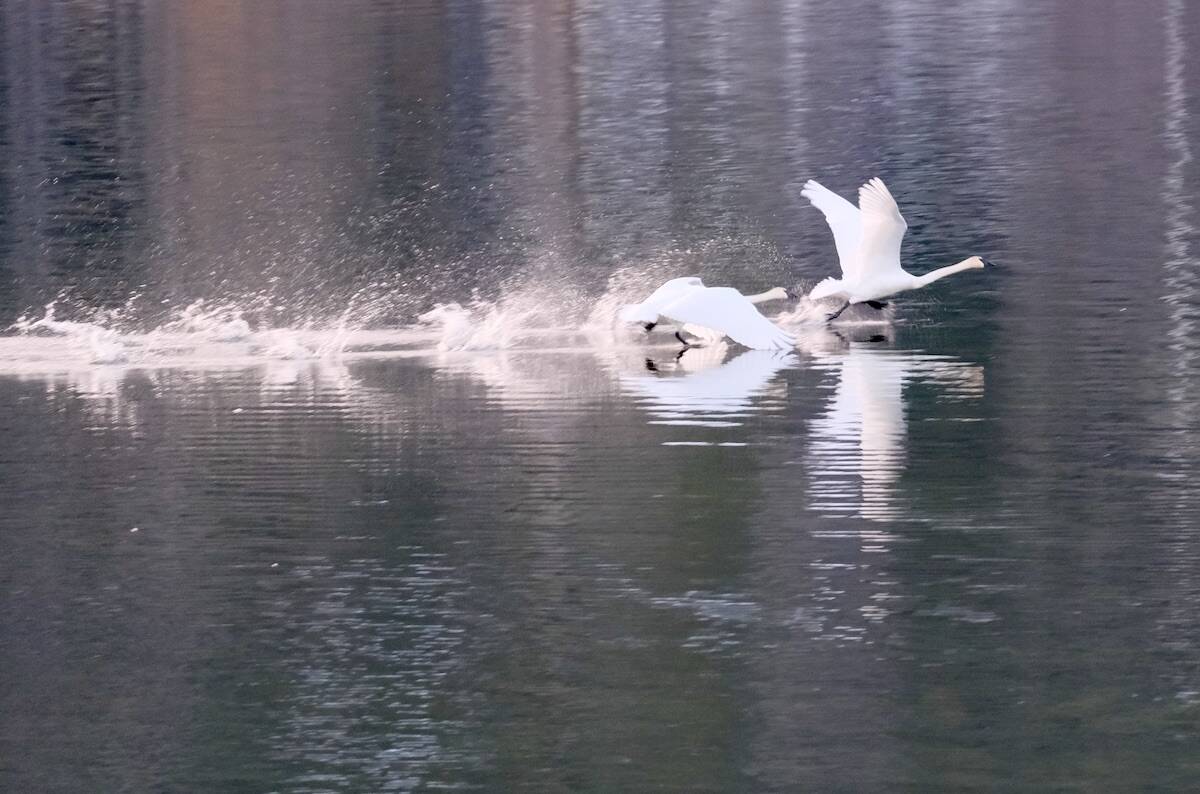 With a wingspan that can stretch to three metres, trumpeter swans are the largest species of native waterfowl in North America. They are a protected species in Canada — hunting them or destroying their nests is not allowed. They came close to extinction from hunting in the early part of the 20th century, when they were put on the endangered species list. In 1996 they were removed from the list when their numbers had recovered after widespread conservation efforts.
Lewis points out that the riverfront land on both sides of Taghum Hall Road is privately owned by the Torano Water Group, of which he is a member. That ownership includes foreshore rights, which means that the ownership does not stop at the high-water line, as is conventional in B.C.
He says this unique ownership of the foreshore was legacied when the water group purchased the land from Teck Cominco 15 years ago.
Lewis wants swan viewers to stay on Taghum Hall Road where they will get a very good view of them, and he asks people to respect private property. He said people routinely ignore his no-trespassing signs.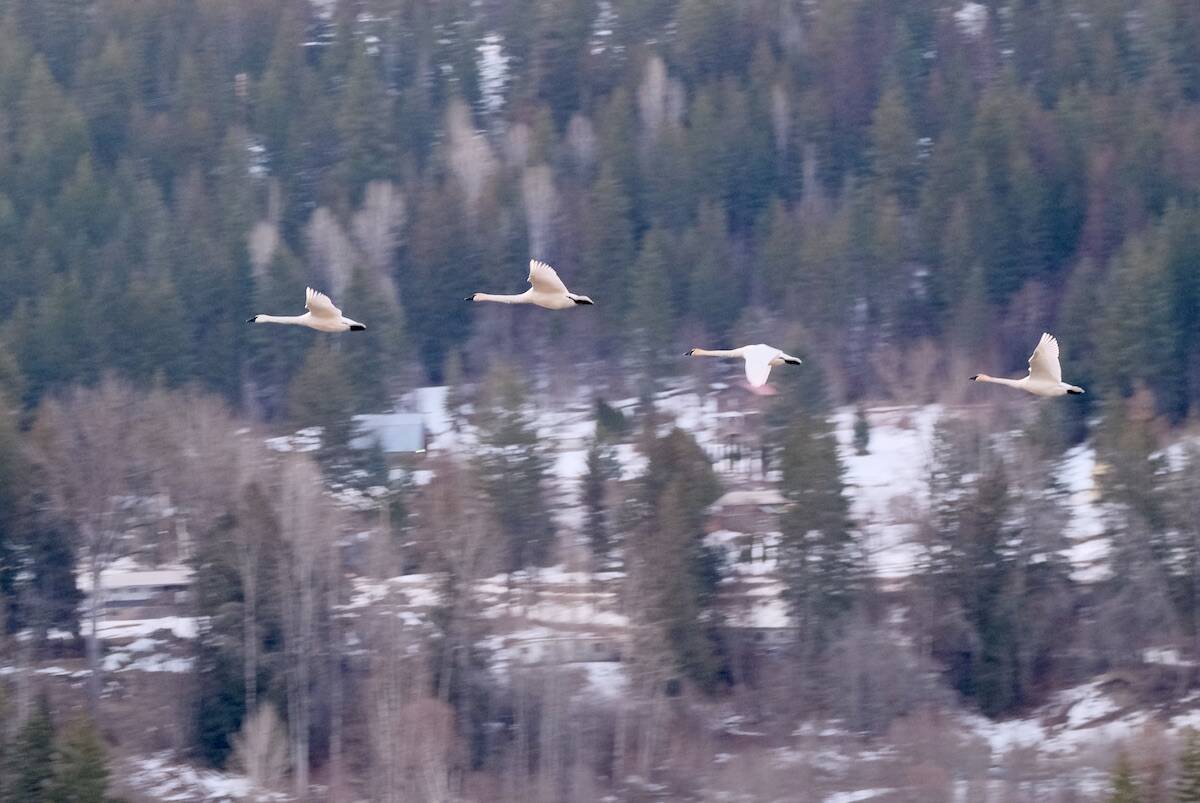 Local wildlife biologist Joanne Siderius says the swans are wintering here and will soon fly to northern B.C. or the Yukon to nest.
Siderius is the head naturalist at the Kokanee Creek Nature Centre and is well-known locally for her wildlife trail camera videos that she posts online.
She says there are more swans than usual at Kokanee Creek this year, and they are also wintering at sites on the Slocan River and near Six Mile in addition to Taghum. She said the birds in these various places might the same ones, moving between locations.
Siderius explains how to view the swans respectfully.
"Use binoculars. Stay a great distance away. If the birds start looking at you and calling and raising their heads, you're far too close."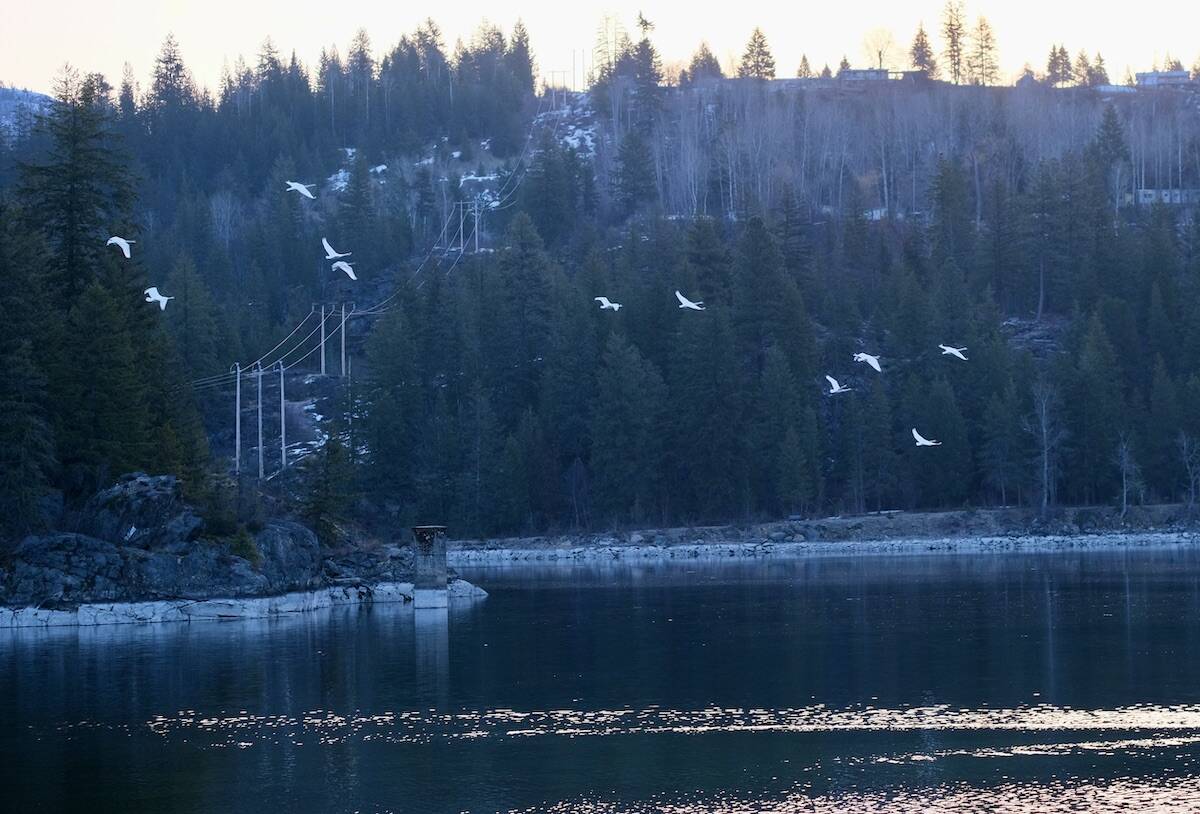 Siderius said they notice people with dogs.
"When the dogs are on a leash, they don't do anything, but if there's a loose dog out there, they will get up and fly off. Wildlife in general is less agitated with a dog on a leash than with off-leash dogs."
She said people should be aware that a swan "could do some real damage to a dog" although she has never seen this happen.
The best practice in the presence of the swans, Siderius said, is to sit still.
"If you just sit and wait, and watch for a while, most wildlife starts behaving naturally. Don't get too close and you'll see some amazing things."
---

bill.metcalfe@nelsonstar.com
Like us on Facebook and follow us on Twitter