Laetitia Mfamobani had to go to a doctor's appointment recently and after arriving at the building and getting to the elevator, she realized it was missing something crucial in her day-to-day life: audible announcements.
Mfamobani is blind, and while the elevator buttons had braille, there was nothing to tell her when she'd arrived on the right floor. She ended up getting off in the parkade, feeling lost until a kind woman came over and helped her get to the correct floor.
"Now imagine today that the management decided to make all their elevators fully accessible by adding audible announcements. That means for any future appointment I will leave my home confidently knowing that I can get to the building, I can get on the elevator and I can find a doctor's room without worrying about who's going to help me," she said.
That is Mfamobani's hope with the provincial government's announcement Thursday (July 27) for a $5-million boost to the Rick Hansen Foundation – where Mfamobani works as an accessibility specialist – to help seven more municipalities and Indigenous communities better improve accessibility.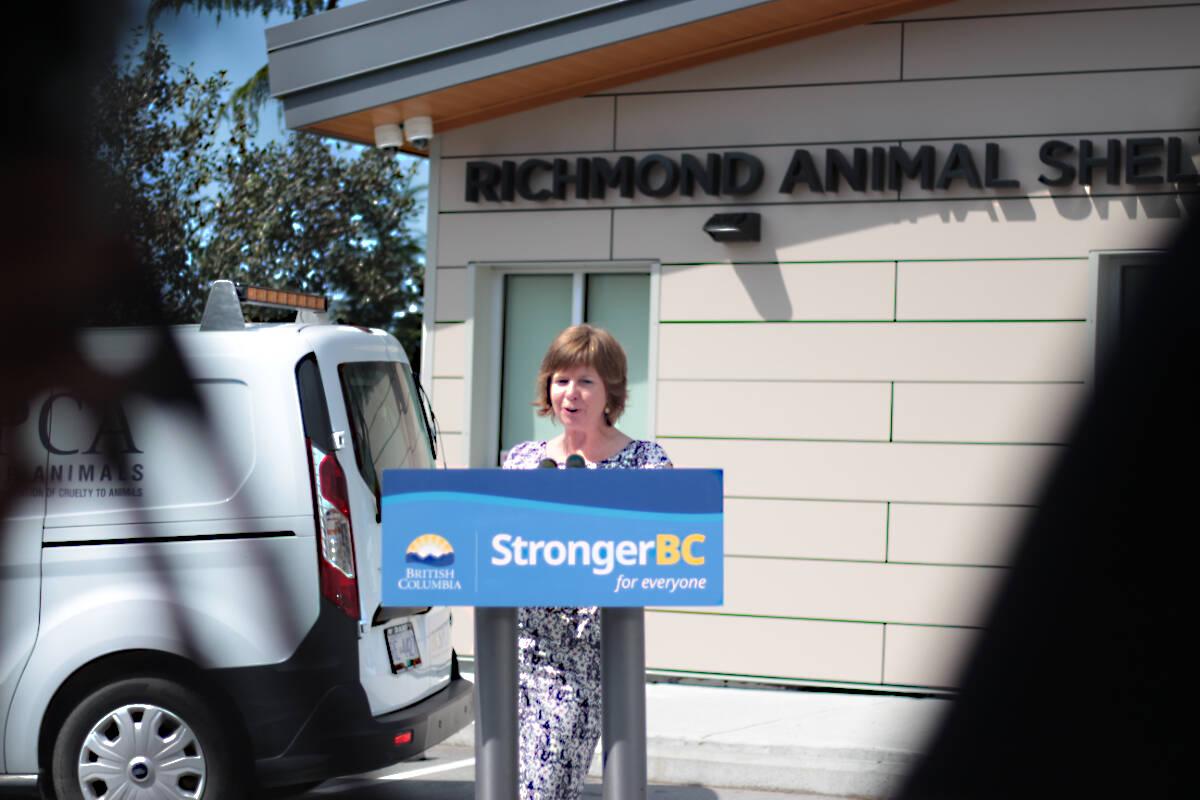 Social Development Minister Sheila Malcolmson made the announcement at the BC SPCA Richmond Animal Shelter, which was one of three Richmond buildings that had been previously chosen by the government and the foundation for accessibility projects.
B.C. first announced eight municipalities would benefit from $82,000 for accessibility improvements. Those municipalities were Coquitlam, Kamloops, Kelowna, Nanaimo, Port Moody, Prince George, Richmond and Whistler.
Malcolmson said two Indigenous communities and five more municipalities will now be part of the program with the additional funding.
Rick Hansen said it's hard to believe it's been 50 years since his spinal cord injury where he was "introduced to a world that was completely inaccessible." While there has been a lot of progress over the past five decades, there is still a lot of catching up to do.
"It's hard to believe that still today in British Columbia and across the country that there are fundamental barriers based on old models of thinking that people with disabilities really don't belong and if they do they belong in certain sectors."
He said this grant allows the foundation to tackle one of the biggest barriers: the built environment.
"We need to train architects, engineers, city planners, developers, advocates and everyone who's considered responsible for dealing with accessibility so they're speaking the same language and measuring the same things – and then we need to measure up."
The funding will expand the Rick Hansen Foundation BC Accessibility Grants Program and will be used to evaluate accessibility of facilities, upgrade three selected sites and train municipal staff on accessibility.
In B.C., there are more than 926,000 people living with disabilities.
---
@laurenpcollins1
lauren.collins@blackpress.ca
Like us on Facebook and follow us on Twitter.