Kids in Creston got to show off their cycling skills while learning about bike safety last week.
On May 6, families attended the Bike Rodeo at the Creston and District Community Complex. Despite the rainy weather, over 180 people attended the event that was moved inside the curling rink.
"It was awesome to partner with Creston Valley Early Years and have police, firefighters, and the Lions Club come and spend time with all the children," said Lisa Dear, Regional District of Central Kootenay recreation supervisor.
"We had so much great community support for this event and it allowed so many children to be active on their bikes on a wet day. The food, door prizes, and being together with so many great people was a highlight of my week."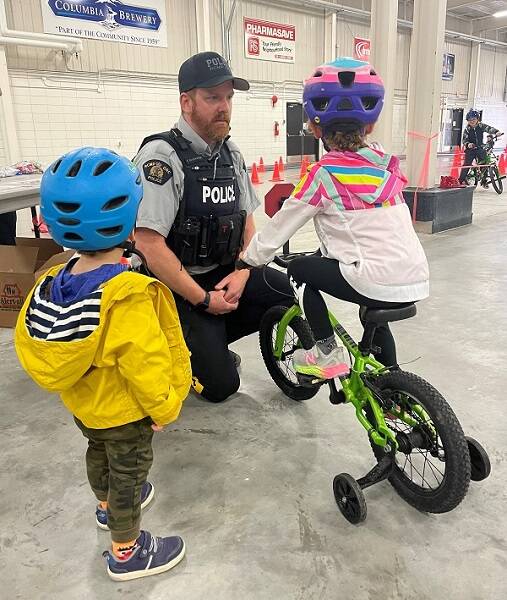 After a bicycle safety check and helmet fitting, kids had the opportunity to talk to officers about the rules of the road before completing an obstacle course.
"I was able to meet many happy, smiling children," said Const. Kyle Konowalchuk.
"It was an excellent event with food, a fun indoor riding area, and children decorating their bikes. I loved getting to know families and spending time with the kids. Giving back to the community is why I became a Mountie."
Detachment Commander Sgt. Brandon Buliziuk also reiterated that the aim of the event was to provide education and fun for families.
"Community engagement forms the foundation of policing in our communities," he said.
"Our involvement in events, especially those where we can work closely with youth, are very important to us as your local detachment."