For Mother's Day, Langley's Alisha Openshaw isn't expecting too much.
"I don't have any plans for Mother's Day, maybe just get a well-deserved sleep-in and spend the day being spoiled by my boys," she said.
Twins Weston and Bennett are four, not quite old enough to make mom breakfast by themselves, but old enough to deliver it.
"If my husband helps, they would likely be able to bring it up to me," Alisha said.
It would be a rare day of rest for Alisha, who estimates she averages at least three days a week on the road, driving her sons in from their Langley home for cancer treatments at B.C. Children's Hospital (BCCH) in Vancouver, a route so familiar and automatic that she can arrive without remembering any of the turns along the way.
Her boys were both diagnosed with the same type of cancer, Acute Lymphoblastic Leukemia, within a few months of each other, in 2022.
Since then, "it's a whole new world," she commented, one of doctors, nurses and specialists, of chemo and other medical procedures, and sometimes long stays in the hospital,
Weston, who was the first brother to be diagnosed, has had a "really rough go," that included a six week stay in hospital that ended just in time for Christmas, Alisha advised.
Currently, both Weston and Bennett are doing well, "other than them both being bald now," but their hair is growing back, and the twins are becoming their usual rambunctious selves.
"They're both wild boys," she laughed.
READ ALSO: VIDEO: Langley twin brothers, 3, battle cancer
A video of their hospital visits, provided to the Langley Advance Times, showed the brothers happily rampaging through the hallways at BCCH with a toy wagon, showing they know where the switch is to open automatic doors, and the route to the outdoor play area.
'They're very familiar with the hospitals and the treatments," Alisha commented.
"They'll be playing house, and [they will pretend] 'you have to take your medicine'."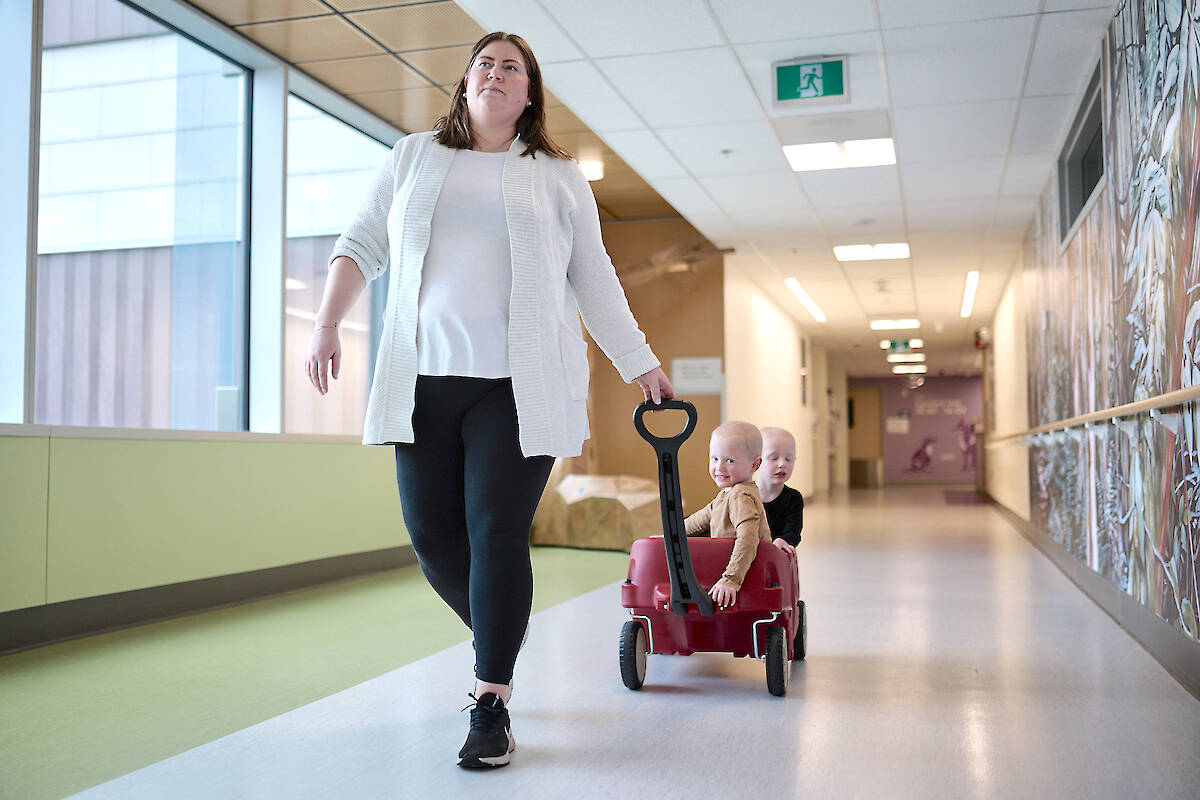 The Mickey Mouse-loving twins enjoy playing with their older brother and cuddling with their 'Nana' – grandma and spending time with their 'Auntie,' Alisha's sister.
Alisha has also found support from what she described as a community of moms in similar situations.
"We call ourselves the 'momcologists,' Alisha said.
READ ALSO: VIDEO: Cops for Cancer Tour de Valley begins
Alisha is telling her family's story to support BCCH, which is the only hospital in the province devoted exclusively to the care of children and youth.
Donor funding, through the B.C. Children's Hospital Foundation, goes to providing medical equipment, help fund leading pediatric research and clinical care, and enhancing facilities, programs and initiatives.
The current campaign theme is "join the mighty" – donate to help mighty mothers and mighty children.
"It has been a difficult journey at times, and I haven't always felt very strong, but I have had to remain mighty," Alisha commented.
"Staying mighty for my boys is knowing exactly when they need a big hug, or when to crack a silly smile. Mighty is telling myself it's okay to walk away and have a long, hard cry. Mighty is knowing when to ask for help. As a mom, this is how I need to show up – staying mighty when things get tough."
Contributions can be made at www.bcchf.ca.
---
Have a story tip? Email: dan.ferguson@langleyadvancetimes.com
Like us on Facebook and follow us on Twitter.